My dog Ollie passed away Sunday unexpectedly. We think it was a heart attack or stroke. He was fine one minute, and then he was down, and shortly thereafter, he was gone. While we're so sad to have lost him,  I'm thankful that Debbie and I were there when it happened. I can't imagine him going through that alone. At the end I think he knew we were there with him and that's comforting for us.
Ollie wasn't only a family pet and my best friend and companion, he was also a therapy dog. He was familiar to many of my clients for whom he was a calming and steadying influence. His presence in the room helped so many clients have a way to focus and relax and to better communicate their feelings. Dogs have a way of doing that, and Ollie was an expert.
Let me tell you a story about Ollie. Ollie was a stray who ended up at the pound. We got 5 year old Ollie from the Desert Labrador Rescue as a foster in the beginning because I had another senior dog at the time and we wanted to be sure they would get along before making the commitment to adopt. Debbie always liked yellow Lab  female dogs. We weren't looking for a male, but I fell in love with him and wanted him. I knew he was the one, but I had to convince Debbie. I took him from the Desert Lab kennel sort of on the sly, to take him to meet Debbie to see if she liked him as much as I did. Of course when I brought him home Debbie fell in love with him and we decided to foster him.
I had taken him out of the kennel sort of without their knowledge. I had permission and access to the kennels at that time. The manager didn't know that I had taken the dog that day, and that meant I had to try to sneak him back into the kennel. I pulled into the parking lot at the rescue kennel I opened the door and he jumped right out and bolted! I couldn't catch him. He ran through streets and neighborhoods with me in hot pursuit, not believing I would ever be able to get him back (then I'd have to confess I'd snuck him out), until finally a landscaper working nearby helped me to corner and catch him and I was able to get him back into the kennel without him being missed. This was the first of our many adventures together.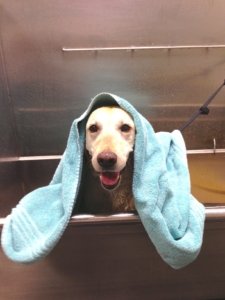 Originally named Sundance, we changed his name to Ollie and adopted him as part of our family. He was excitable and boisterous at first, he loved to run and play. We had another Lab, a big 90 pound Lab called Max at the time. Neither of them were quite leash trained, and Debbie had a heck of a time walking them without me. I can still see them pulling Debbie down the street!
Through training, Ollie became the ideal pet and family member. When I began working with him in training and I got to know his personality, I realized he'd be much more than a family dog, he had the ability to melt people's hearts.  My sister called him a "kind soul in fur", he always lived to love and to please. He was excited and always wanting to play with other dogs. This was something I was never able to completely train out of him. That playfulness was just his personality. Never aggressive, Ollie was good with kids, cats, everyone.  Ollie was never a swimmer but he loved water.  His paws had to touch the bottom for him to feel secure. We called him our "Mini Lab" because he only weighed 57 pounds. I think most of that was heart.
I was working with children on the Indian Reservation at the time and I learned that Ollie could be certified through Pet Partners to be a therapy partner.  I was up at 3 AM one night when I saw an infomercial that was a dog training tool to help him with other dogs. Within 3 weeks he was good to go. I was worried about the portion of the test where they tested the "leave it". I feared they would use food, which he could never "leave," – they used a ball instead so he passed! He passed the test with flying colors.
He was finally certified. What an accomplishment. Ollie was so proud!!!
Gabriel's Angels is a therapy dog organization that goes into group homes. Ollie and I went once a week for about a year to visit kids in group homes for underserved kids. He turned people's lives around in that program. The kids felt safe with him. I eventually took him away from that work because he was becoming a bit depressed due to not being able to play, cuddle or lick the kids in the group home. He needed to be more of a "paws on" therapy dog. He became part of my Couples Expert office practice after that where he worked on a regular basis until he passed away at age ten.
Families are all about confidentiality. There are things in our family that we don't tell. Ollie would "beg" quietly and politely for food. If you would give him a dish that was too deep he would be afraid to eat out of it. Debbie and I joked that that would be our family secret and we would never let any of Ollie's canine friends in on it so we wouldn't embarrass him in public. We fostered many labs for Desert Lab Rescue; Ollie was big brother to 16 dogs he helped place in forever homes.
There's a green belt in the neighborhood where we would meet and walk in the evenings , Ollie had a lot of friends there. He is going to be missed by a lot of humans and canines in Scottsdale. We have a lot of great memories of Ollie there.
The impact of his loss on our family is immense. Debbie and I are so sad to lose Ollie. It was harder for me to express this in the hours after he passed away than it was for my wife. It took a while for me to let the tears flow and it was only because I have a wonderful partner in Debbie, that I felt like I could really let go and grieve for the loss of my friend. Ollie really was like a child to us, and the deep pain of loss is no less for a beloved pet than it is for any other kind of loss. We will be grieving this loss for some time. I dread having to tell my clients that he is gone. This is going to be a painful conversation to have.
If you allow it, a dog can become a dear friend and loving companion. They will love you beyond measure and be the most loyal friend you'll ever want to have. Feed them right, care for them, train them for manners and obedience and socialize them so that you can feel safe to take them with you anywhere you go. You'll have a friend for life, as long as that life lasts. It's a fact that you're likely going to outlive your dog, and that's a hard fact to realize. We really wish we could keep them forever.  The good news is that we can keep the memories and the feelings of warmth and love that they've provided over the years.
I'm grateful for the time that we had with Ollie; all of the walks, the hikes, the playtime and the companionable silences we shared over the years. The fact that he was an asset to my work is just one other thing that I am thankful for. Our dogs can give us a beautiful example of unconditional love. They are the best listeners, the most undemanding companions. Simply being with you is enough to make them happy. Ollie was a well-loved and happy dog and he gave to so many that unconditional love and companionship. He truly helped a lot of people, and was a wonderful friend and family member and he will be sorely missed.
In memory of Ollie, Debbie and I went to get a paw print kit and we have kept a lock of hair from Ollie to memorialize him along with the rest of our pack. We love you Ollie and you will be missed!
Rest in Peace Ollie Fensterheim 2007-2018
Subscribe to My YouTube Channel
Ask Me a Question
If you have a question, comment, thought, or concern, feel free to comment below. We'd love to hear from you!
Facebook Comments