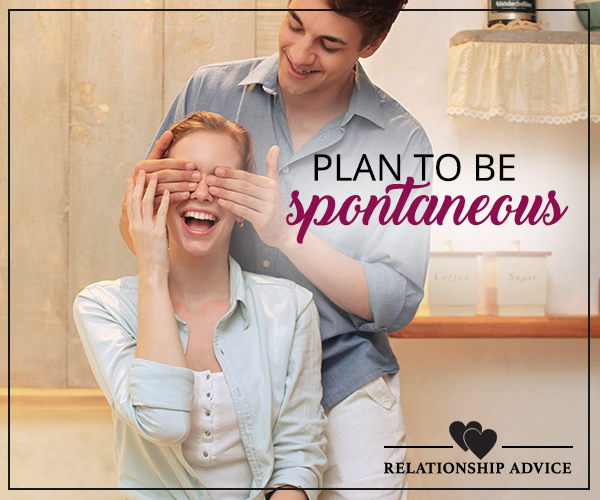 When was the last time you and your partner did something fun and spontaneous? If you're like most couples, it's probably been a while. Work, life, kids and obligations sure can get in the way of spontaneity. Still, having fun and playing with your partner are important factors in a happy relationship. Don't you think it's time you came up with something super fun to surprise your partner with?
Here are some suggestions for things you can do to surprise your partner. Remember that not everyone loves surprises, so if your partner is one of those, take care in how you present your surprise and give them a little heads up, a couple of alternative options so that they can feel like it's not just coming out of left field to throw them off kilter. Those who do love surprises are really going to love it when you come up with some of these ways to surprise your partner. Go all out, make them feel important, special and like a king or queen for the day.
1. King/Queen for a day:
Set up a day that is all about your partner. They are number 1 for the day. From breakfast and coffee in bed, a morning activity (that may or may not include a sexual surprise), lunch at a secluded spot or their favorite restaurant then a surprise of a concert, an event or activity that you know they have wanted to do for a long time.  It's all about setting up a way to surprise your partner and making them know just how special and important they are to you.  It could include a spa day, couple's massages or wine tasting in the country. Whatever you do, make it about letting your partner know that you've done all you can to make this day as fun and stress free as possible.
2. Plan a surprise getaway:
You take care of everything. Make sure your partner has the time free and no other obligation. Get them psyched for a trip but don't tell them where you're going. That's the surprise. Make it somewhere you've never been before and set up activities and adventures you know will surprise your partner and that you'll both really enjoy. Beware of overbooking your time. You want this to be relaxing and fun. Schedule some downtime for the two of you to be intimate and romantic during this getaway. After all, the point of this is to surprise your partner and delight them with this trip. Guys! Remember it's all the details that make the trip so don't forget that you need to arrange for the babysitter too.
3. Exchange an obligation for a date:
If you're asking your spouse to do errands for you there can be a special reward. Perhaps it's stopping at the grocery or the hardware store on your way home. You can turn that into a date (really)!
Surprise your partner by being ready and waiting when they arrive home to whisk them away to dinner and a movie, or a show they've been waiting to see.  Make sure the house is clean and everything is done. Don't skip making the beds and emptying the dishwasher. Leave nothing undone, so your partner can just relax and enjoy your time together.
4. Sexy times
Surprise your partner by showing up naked when they return home from work.  Let them know ahead of time that you've got special plans for them tonight! You've got the kids at the babysitter, candles and adult beverages and then when they walk in the door, they'll know something special is going to happen.  
5. Get a room
Surprise your partner by making reservations at a local hotel. Somewhere that's fancy enough, but not too far away from home. Tell your partner to pack an overnight bag and bring their sexy underwear. Order room service.  Make your partner feel loved and special by devoting an entire day/evening just to their pleasure. This is great to do on a birthday, but you don't need an anniversary or special date to make this kind of effort to help your partner know how loved they are.
These are just a handful of ideas for you to try that will pleasantly surprise your partner. There are many more that you can come up with. Think about the things that your partner likes the most, what they need to feel loved and important in your relationship. If things have become humdrum and routine in your life and relationship, take the initiative to set up something fun and really knock their socks off!
It doesn't have to be hugely expensive. Be creative and do what you know you'll both enjoy. It could be something as easy as taking her to see that "chick flick" she's been wanting to go to, or taking him to a ballgame or going to the boat show or gun show with him when you'd really prefer not to. These small sacrifices let each other know that you are making your partner the most important thing in your life and that you're willing to do something simply to make them happy.
These types of activities where you surprise your partner will be some of the most fun adventures and memories you will make together. Do it often and have fun!
THIS WEEK ON THE COUPLES EXPERT PODCAST
Subscribe to My YouTube Channel
Ask Me a Question
If you have a question, comment, thought, or concern, feel free to comment below. We'd love to hear from you!