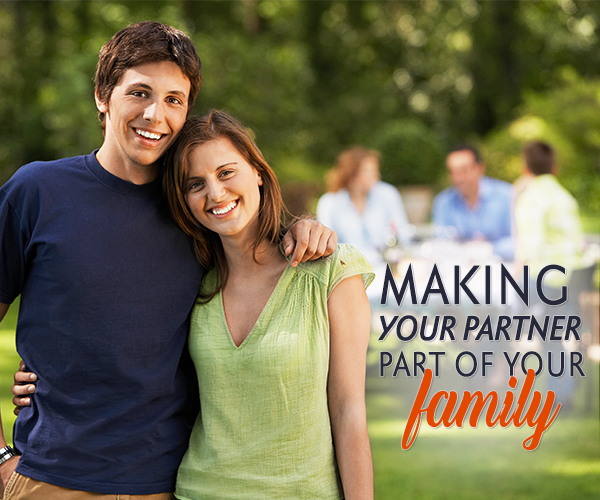 Is your partner someone you keep to yourself or have you made them part of your family? Are they kept away from a family get together or have you already introduced them to Mom and Dad and showed them the wonder that is your (shrine to your childhood) bedroom at your parent's house?
If you're in a long term relationship and haven't made that step yet, you might want to consider doing it soon. You have to do it sooner or later and it's important for both of you that you meet each other's families and become a part of them. You'll be surprised at the insight you can gain about your partner by spending an afternoon with them and their family. You can learn a lot by being quiet and observing the family dynamic and how your partner fits into it. The way they are treated by their parents can give you a lot of information about who they are and how they interact in a relationship.
If you're worried about whether your partner will like your parents and vice versa, don't! When it comes right down to it, your family should love and accept your partner, because you do. The best way to let your family know you care about this person is to bring them home. Your family will see that you're serious about your partner. The main reason to do this is to show your partner that you want them to be a part of you, to see and know your history and where you came from. This is a deepening of your commitment to them, and a way of showing your family that you love this person and hope that they will as well.
Subscribe to My YouTube Channel
Ask Me a Question
If you have a question, comment, thought, or concern, feel free to comment below. We'd love to hear from you!
Facebook Comments