LOVE LANGUAGES HOW TO BUILD A FOUNDATION  FOR A LOVE MATCH 
Love languages are discussed a lot in the literature on relationships. But in reality the most important love languages is about building  a foundation. I will be discussing six things you should consider when you're looking for your love match .How do you go about building the foundation for a love match? You want a love relationship that will be a deep and happy one. You want a relationship where you both feel valued and important. That foundation starts with friendship and a time of discovery . Get to know this person as a friend before committing to anything more. 
Start Fresh 
 Leave your baggage from your past relationships behind. You have an opportunity with this new friend to have a different kind of relationship than you may have had previously. The love languages that you are speaking are about commitment connection and vulnerability If your last relationship didn't end well, this is a chance for you to begin in a different way and build your foundation on true friendship and mutual respect. Take a good look at the reasons why you may have had difficulties in the past, and approach this relationship as a new journey of friendship and fun. Getting to know someone new is a wonderful process. Uncovering all the layers of who they are, what they enjoy, what you both have in common and like to share. It's a time of adventure and wonder for you both. 
Dig Deep! 
 In order to get to know someone and build that foundation on friendship and trust, you must dig deep be vulnerable and connect with risk taking and communicating effectively. . Both of you have to be willing to be vulnerable and share your true feelings with one another. We often put on our best selves when we're in a new relationship, and it's normal to do that. You have to also be real and authentic. You both need to know that the person you're spending time with looking at being in a relationship with is being honest with you about who they are. You've got to show even the parts of yourself you think the other person may not be attracted to. You have to risk that in order to know if this relationship is truly going to be worth committing to for the long haul. 
Being close to someone, being connected to someone means showing and knowing the deepest and most vulnerable places you each have. When you can be accepted and accept someone for who they are "warts and all", you know you've got a person that is worth the time and effort of building a relationship with.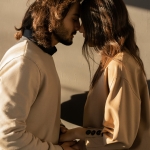 Set High Standards  
 You deserve the best in life and love and should never settle with someone who isn't right for you simply because you may be lonely or think you must have a partner to make your life complete. Know yourself and what you're looking for in a partner. Set the bar high. If the person you're dating or getting to know doesn't meet your standards you should be willing to let them go, or to cultivate a friendship with them that has no expectation of being more.  The person you want to be in a relationship with is he one that checks all the boxes in your estimation for a life partner. Know yourself and your needs well enough to recognize if there is something about your new friend that falls short. This saves you both hurt and heartache in the future.  
Of course you know that nobody is perfect, we're all flawed. If you expect perfection, you'll never be satisfied. Your perfect partner will never be perfect, but will be the perfect match for you!  Being imperfectly perfect together is what makes your relationship unique and special. This brings us to the definite issues that you never want to involve yourself with. 
Deal Breakers 
 If you have high standards for your friendships, you'll recognize characteristics and habits that can be considered deal breakers.  Examples of this can be smoking, drinking alcohol, anger issues, doesn't want children, financially irresponsible, polyamory, and more. This is why it's critical to be authentic and get to know your new friend on a deep level before you invest your heart and your future with them. 
 Meet the Family 
 It can be awkward, but it's important that you can be involved with them in social situations and fit in with their family dynamic. It can be very revealing to spend time with your friend in a family situation. You'll see how they are with parents and children and how they treat their parents and siblings.  You also see how they interact with your family. Are they inclusive or exclusive? Will you all be able to be one extended family? You can develop your friendship on a deeper level by interacting with them and being a part of the family activities.
Get What You Give 
 It's important to remember that when you're working on building a friendship that is blossoming into love speak languages of love. You get what you give; respect compassion communication and patience are all important building blocks in that foundation you're building together. Get to know each others love languages can have your friendship blossom into love in no time.  Having a close and connected friendship first is one of the keys to unlock a lifetime of loving happiness for you both.