Stress relief as a couple in this covid world can be hard to come by. The world can be a scary place with an uncertain future, where anxiety, fear and stress are our constant companions. It can be scary and anxiety-making with the Covid Crises, economic worries, sending kids back to school, unemployment, you name it. There are more than the usual reasons to feel worried, uncertain, and anxious. Couples have an advantage over those who are sheltering in place alone. You have one another, and that's no small thing! Even still, if you and your partner have been isolating together since the pandemic began, you may be feeling some stress in your relationship too. It's difficult on many levels to function as a partner and spouse in addition to all the other stressors you're managing. So how are you managing? If you're not doing well I'm here to suggest a few options for dealing with anxiety and worry.
So, if you have been worried and fearful, know that you're not alone in feeling this way. There are many among us who do. I've been thinking about some of the ways we deal with fear and anxiety and definitely need stress relief. As a couple how do you do that. I have some suggestions for couples where one or both of you may be experiencing more than normal amounts of stress, anxiety and fear.
These stressors can affect our mental, emotional and physical health and can manifest itself in a number of ways; sleeplessness, irritability, loss of appetite, depression, apathy, isolation, emotional eating, headaches, intestinal disorders and more. During this Covid-19 crisis, the lack of ability to go out, travel to see loved ones, friends and family, not to hug or embrace your friends can also add to the sadness and stress.

Work it out – One thing you may be lacking is physical activity. If you've not had a workout routine or any other physical outlet, there's no time like the present to start. This is one of the best ways to have some stress relief. If you're physically able to, get out and walk, bike, swim or hike. Do yoga or more low impact exercises if you're not up to heavy exertion. Physical activity will release happy brain chemicals and help your overall health as well as your mental outlook and you'll look and feel better. You and your partner can work out together, motivate and hold each other accountable for doing your workouts on a regular basis. Sex counts as a workout too!
Journal or write your feelings down – If you don't want to burden your partner with your worries or you find it difficult to articulate what you're feeling, write it down. Journaling is a healthy outlet for you to pour out all of your emotions and to express yourself safely and without fear of judgment. Set aside a time every day whether early in the morning, or before you go to sleep to write about your day. Putting down what you're feeling in writing will help you to feel lighter and somewhat unburdened. You can keep this private or share and discuss with your partner. Going back later to read what you've written can give you a fresh perspective and give your partner insight into how you are feeling.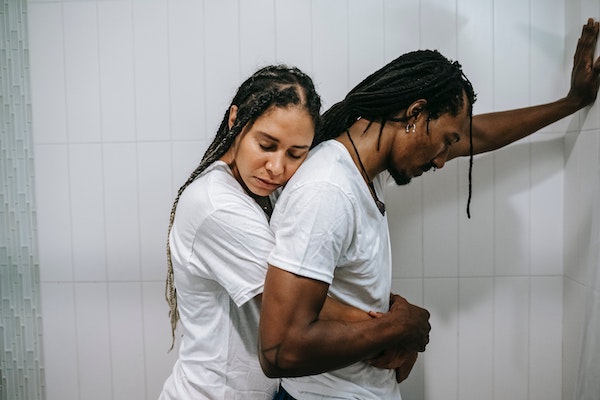 Share with your partner – You and your partner should be able to talk about anything. Chances are that you both are feeling increased levels of worry and stress whether you want to admit it or not. You can be a sounding board for one another. I'm not saying you should dump all of your negative emotions on your partner, but you should confide in each other when you're feeling worried. Hold and embrace each other more. Be kind to each other, sensitive and caring about how one or both of you might be feeling on any given day. Ask each other how you're holding up and be honest with your answers. Be there for each other.
Take positive steps – Do one thing every day that makes you feel positive, accomplished, or that you're taking a step in the right direction. Don't give into fear. Instead, make changes in your routine or environment that make you feel better. Organize something, repurpose something. Repair something that's in need; whether it's a friendship or something around the house. You and your partner sharing these tasks and these emotions will help both of you to overcome your fears and feel stronger together.
When you share your worries they lose a great deal of their power over you. Acknowledge them and sit with those feelings for a bit, share them with your partner, then take action. Do something together or alone that moves you past those fears and into a more hopeful and happy place