A STRESSFUL RELATIONSHIP IS KILLING YOUR CONNECTION! – 4 WAYS TO DE-STRESS FOR A HAPPIER RELATIONSHIP
" A Stressful relationship impacts our love relationships more than we are aware of or acknowledge," according to Judy Ford, a licensed clinical social worker and author of Every Day Love: The Delicate Art of Caring for Each Other. Some signs that you or your partner are stressed out are: being snappy, cranky, withdrawn, moody, restless, angry, agitated, or self-medicating with alcohol or drugs. The best thing to alleviate this is the love of a partner and having a confidante that will allow you to share your thoughts, fears and anxieties. Consider incorporating one of the four suggestions below the next time you or your partner are feeling overwhelmed and you determine that you have a stressful relationship.
FOUR THINGS YOU CAN DO TO MANAGE A STRESSFUL RELATIONSHIP WITH YOUR PARTNER
1. The Approach & Listen
Keeping quiet is not the way to go here. If you recognize that your partner is stressed ask what's going on in a compassionate way. Something as simple as, "Is everything okay, babe? Come talk to me about it," works just fine. Don't over think this. The next part is to really listen to your partner. We all want to be understood and when we are listened to we feel cared for.
2. Comfort & Console
Stress reduction, similar to pain is lessened by holding the hand of a loved one. You may feel the urge to help solve the problem, but put comfort first. Something as simple as touching your partner's hand can provide stress relief. This alone can create a less stressful relationship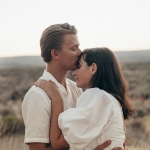 3. Physical Activities Go a Long Way
Being more physically active is great for stress reduction. Find a physical activity that the two of you enjoy like a round of tennis or swimming. Not only will you relieve stress you will increase your bond with one another helping both of you identify your relationship as positive and loving and not stressful.
4. Self " Check" & Manage
It's not uncommon for both partners to be stressed at the same time, nothing can be more stressful than that in which case comforting each other can be difficult. Do what you can to de-stress first. Inhaling & exhaling slowly and deeply a few times may help. Then reach out to your partner for support.