Finding Mr Right is important and take time and energy. How do I know if I   found Mr Right. When you meet your perfect partner, will you know it? Do you have standards that your partner must live up to, boxes that they have to check in order to be with them, or do you just get to know someone and see if there is chemistry? 
Of course you want there to be chemistry, you want that person to light you up, to make you feel like you're the most special and desirable person on Earth, but what about next year, 5 years , 10 or 20 years down the road.  Is that enough to sustain your relationship?
It's not; you need someone that has the qualities that make a long-term relationship possible. Someone who's going to stick with you through the good times and bad, someone trustworthy, someone who will be kind to you and treat you like the precious person you are. 
In finding Mr Right you have to  get to know this new partner. Spend time together as friends before leaping into a "relationship".  Learn about each other and be specific about what you need in a relationship. Couples don't do that enough. Love is great, sex is great and it's wonderful to feel special. However, life isn't always a honeymoon. Everyone has tough times where they're going to need their partner to be there for them both physically, emotionally and to be steadfast and reliable when times get rough. This is the worst time to find out that your partner doesn't possess those qualities and abilities that you them to have. What a disappointment you are up against when you are having a crisis, and find out that your partner is not able or willing to help you. 
Taking time to understand what makes each other tick, what excites your partner, what they love and feel passionate about is smart and a great way to protect your heart. It will be way better to find out that you're incompatible when the relationship is new, than after years of investing your love and care into it. It's the difference between a letdown or disappointment and a broken heart with a lifetime of regrets. 
Oftentimes, people are simply so desperate to have someone to share their life with that they are willing to overlook some obvious red flags. I urge you never to ignore those feelings of alarm when you're getting to know someone. Mr Right can easily be Mr Wrong. Finding Mr Right take time and patience. It's far better to remain single and keep looking for your ideal partner, than to get together with someone who's obviously wrong for you simply because you dread being alone or fear you will never find "the one."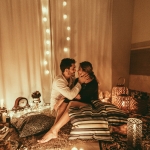 You can never have too many friends, so I suggest you being your relationships with building them into friendships. If there's going to be more to it, you can see it happening organically. Be up front when you meet people. Tell them you're looking for a friend and partner and you start with one and work your way up to the other. If you find this person has that depth of feeling for you, you are not obligated to jump into anything. Take your time before you commit. Make darn sure (as sure as you possibly can) that this is a person worthy of sharing your life and being your partner.  Typically this doesn't take weeks but months or maybe even years. What's the rush if this is someone you will be spending your life with? You should be willing to invest whatever time is necessary.Talk about your hopes and dreams, even (GASP) religion and politics! Get to know each other and go down that mental check list for a mate.  Don't be a victim of circumstance, or fall into a relationship for convenience or company.  Partnering with someone is one of the most important choices you'll ever make in life. Make a good one!