Since March our world has been turned on its head by the Covid Pandemic. The Covid-19 pandemic has altered the way we do just about everything.  Our jobs, schools, shopping habits, recreation and just about everything else has been affected. Our relationships with our friends and family have also been affected. One couple I counsel over telehealth described how the pandemic and their response to it have affected them as a couple. I am hearing similar things from other couples. Here is Doug and Charlotte's story as told by Charlotte.  
When the pandemic hit we were both working full-time at jobs we loved and had our friends, hobbies; a lively social circle and we went out as a couple or with other couples every week and a half to two weeks. We spent most of our time working or commuting, spending only evenings together when we didn't have any other social obligations or club/organizational meetings to attend. Both of us serve on the Board of Directors for local non-profit community organizations. 
Weekends would find us doing house chores , either running, biking or hiking, usually with friends, not together. Doug plays golf, I don't, so I would stay behind or call up friends to meet for coffee or lunch, maybe some shopping or go to an exhibit or gallery, museum or a play.  
All of this came to a screeching halt in March when we entered Pandemic Lockdown. I am an essential worker so I continued to go out to work every day.  Doug took his work home. He converted our guest room to his office.  I began my Coronavirus protocol to enter our home after returning from work each evening. I keep a clean robe in my garage. When I return home I park my car and close the garage, strip off my work clothes and mask and put them directly into the wash, put on my robe and head directly to the shower. I put on clean clothes and drop my robe into the wash before I can even greet my spouse.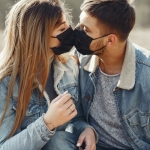 I live with the worry that I will bring home the virus and infect him. He worries that I will become ill and die from being exposed to the public.  
We have come to appreciate all of the quiet time we now have together, since we no longer see friends, go to the gym, go shopping, or in his case, golfing. The amount of time on our hands has caused us to dig deeper in our relationship. To appreciate each other's presence in our life. Also  to make the very most of all the time we spend together. 
We spent years taking our relationship rather lightly in hindsight. Now we know what we truly mean to each other. We are all we have and we are dedicated to working out any and all of the seemingly small (in hindsight) issues that drove us to seek counseling before.  We know how important we are to each other; there is no doubt in our minds. 
I am kind of grateful to the circumstances that caused us to consider our relationship in another light. I also appreciate counseling for helping us see what is truly important. While I don't wish Coronavirus on anyone, I do wish other couples could see things the way we've come to view them.