Romancing your partner during Covid is difficult for many couples. The concepts of dating and romancing your loved ones in long term relationships often have  given way to movie nights and stolen moments after the kids have gone to sleep for too many couples. For  some of us, this Covid Crisis has exacerbated this and sucked the fun out of life and filled many with worry and anxiety. Life has changed for families and couples. 
I want to remind you that you don't have to sacrifice romance simply because we are not living our lives as usual. Romancing your partner has never been more important. Birthdays, anniversaries and special occasions have not stopped happening because of the virus, only the way we celebrate them has. 
Romancing your partner isn't always a big gesture, gift or trip. You can be incredibly romantic right now staying at home with your partner. All it takes is a little bit of forethought and you can turn your stay at home routine on its head and make it a day or night to remember.
First: Hygiene!
Quarantine has many of you in the same tired clothes; guys shaggy and straggly with beards and hair; when was the last time you showered and shaved? Same question for the ladies… I don't recommend cutting your own hair if you don't know what you're doing but definitely shower and tidy up, put on some clean clothes so you look and smell nice for each other. As things open up perhaps one of the first things you do is go to a salon. Do what has you feeling safe but this sends a great message to your partner that looking good for them is a priority to you. 
Second: Privacy!
Those of you who have kids need to enforce this. If you're a couple living together without kids, you're golden. Set the kids up with movies and games and let them know you are not to be disturbed unless there's blood or broken bones. Older kids can occupy the young ones, you need to only explain that you and your partner require some alone time. Its good for them to know that as a couple special time alone is an expected in a family for couples.
Third: Choose a Location! 
Patio, garage, basement or bedroom, choose a location where you can set up a table with a beautiful setting, floral centerpiece and break out the good dishes and glasses. Think of how you would expect a nice restaurant to prepare your table for a romantic dinner out. 
Four: The Meal!
Order from your best take out option, have it delivered if possible. Have wine or your favorite beverages on hand, and have a lovely meal together. Don't forget the music and setting the right mood. Flowers may be a nice touch.
Fifth: After the Meal! 
There can be conversation over dessert, music and dancing, foreplay and making out, and a great time of connection. This is not about leading up to sex. This is about romancing each other, appreciating each other and spending time and attention on one another without outside influences or interruptions. If you do decide to take it to the bedroom, that's fine, but should not be the object of the evening.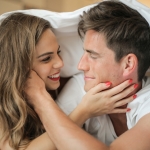 Be together, be in the moment. Romance each other and have a good time together. We're in such uncertain times; it's wonderful to know that you have each other to share the bad times and the good together. 
S