So you want a family vacation to establish more emotional connections for all of you. But Covid 19 can get in the way.  This may have a profound impact on your 2020 holiday vacation plans.. You may be forced to rethink your winter vacation plans. With some creativity and ingenuity you can still have a great family time together!  We've been thinking on how we can stay healthy, have fun and yet still maintain distance but be together as a family and have a wonderful family vacation. You want it  it feel like a vacation in spite of the pandemic. Here are some ideas to create one of the best so it can be family vacation for emotional connection. . 
Road trips – to places that have roadside attractions open. You may need to drive across state lines and map out a route that takes you through wild and scenic areas with stops at places of interest along the way. Those who have their own RV's are at an advantage because you are driving your accommodations. If not, be sure you have places to stay!
Remote areas that are open– There are plenty of green spaces and historical places to visit. This combines travel, beauty and history (homeschool lessons for the kids).  It's really fun to get everyone together to decide where to go and plan out a route that will be fun and educational for everyone. Remember to have the kids help with planning, budgeting, looking at fuel cost and consumption. Everything about this family vacation can be educational. Don't forget your face masks!
Staycation– If you're not able to travel you can be creative and create a staycation for the family.  Pick a theme (where would you like to go?), decorate your home inside and out choose some games and activities that fit the theme. Prepare food and drinks and use other cultural references to your staycation location and dress the part. Learn some of the language and phrases. Kids really get into this and it's a great way to spend a week or a weekend with your family.
Campout – This can be in your RV or in your backyard. Whatever the circumstances are for you in this staycation, it's a lot of fun for the younger kids to pitch a tent or sleep out under the stars. You can drive to a scenic park and "camp" in your RV or trailer. Many cities allow overnight parking. Make it surprising and exciting by changing locations when your kids are asleep. It's fun to see them wake up in a different place! A telescope is a cool way to make this even more fun with star gazing at night away from city lights.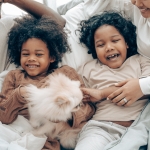 Blanket forts – For kids who are too young or timid to sleep outside, let them raid your linen closet and build a blanket fort in the living or dining room and let them "camp" there. Parents can camp with younger kids in the blanket fort. They'll feel so special that you came to camp with them.  Keep the fun going by having a cookout for your meals on the grill and give them a taste of what it's like to actually camp. 
Bedroom swap– This can be a lot of fun for the kids to do. You draw names out of a hat and the kid gets to stay in the room of the person whose name they drew.  There have to be privacy and some other ground rules, but you can do "chore swap", "Clothes swap" and other fun games with this format. 
Adults only staycation – This of course, is what you've been doing all along since Covid-19 but staycation time means you let go of routine and have some fun with each other. Do a scavenger hunt with an adult prize, play naked twister, strip poker, drinking games or whatever you can think of and just have a whole lot of fun together.  Order your food delivered or get take-out. Sleep in, stay in bed all day and do what you like. No household chores, no responsibilities; just have fun. When you have no one to answer to, you only have each other to play with your staycation can be a sexy fun time! 
Most importantly, make memories, play games, have fun and stay positive and upbeat. Plan next year's vacation and don't let the pandemic get you down. You can find so many great ways to take a vacation.