Just because you can't go to restaurants, movies or bars, doesn't mean that your date night has to be cancelled. On the contrary; quarantine and social isolation with your partner allows you a unique opportunity to be creative and have a different kind of date night. 
You and your partner can still participate in having fun and romantic dates even if you're stuck isolating together. If you're apart, you can be even more creative. Here are some ideas for date nights in the era of Covid- 19
Order in. Both restaurants and bars are allowing take out in most states. Pick a night and plan with your partner to get your meal and adult beverages and shelter in place together. Text her "Meet in the dining room at 8" Have a table laid and your most romantic music playing. Dress to impress and have a fancy dinner with your love. That would be a great beginning of a date night.
On the go. There are no restrictions on you and your partner taking a picnic and driving to your favorite scenic location. Park and have your meal while enjoying your favorite scenery. If you and your partner are not living together, it's rather fun to meet up this way. Choose the best place to watch the sun go down, and enjoy it with your favorite person in separate cars if you must. 
Take a virtual class. There is everything from anthropology, to museum tours, to cooking and dance classes available online for you right now. You and your partner deserve to share something like this that teaches and inspires. This is a romantic date night and then some. The takeaway from this will be tremendous for you both. You can even go above and beyond and make it a dance party with your friends. Can't see them face to face? That's okay! There are some great ways to use technology to get everyone connected.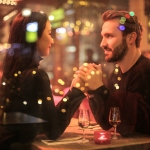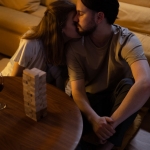 STAY CONNECTED
The main thing is to stay connected; not only to your partner but also to your friends, family and to your life. This coronavirus scare is a real wake up call to what is important. You often don't know what you've got until it's lost. Take advantage of your time at home to turn your relationship into the number one priority in your life and to make it the most important part of life. If you can't be with your partner right now, there are tons of ways to express your feelings to your partner and keep them in the forefront of all you hold dear. 
Social isolation is so much better when you have a partner to share it with. You both need to look out for and take care of each other now, more than ever and if there's anything left unsaid in your relationship, be sure to say it now. Tell your partner exactly what they mean to you and take the time to have special date nights for the two of you as often as you like.  None of us knows what lay on the other side of social isolation and quarantine. We only have control over ourselves and our actions today, right now. 
Make sure you let your loved ones know how much they mean to you and don't wait to resolve any unfinished business between you. It's very important to heal those wounds, to forgive and forget if necessary. Treat today like the gift it is, and your partner like a blessing, for they are.