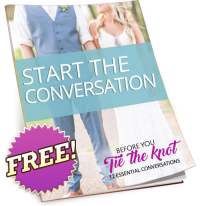 Start the Conversation is my free gift to you to make you aware of the conversations you and your partner need to have to help ensure that your marriage is off to a great start.
It is my goal to give you and your partner an example of what you need to do to have a relationship where you and your partner truly know that you're loved by one another. Your expectations of this marriage is that it's going to fulfill every dream that you ever had about a relationship.
The two of you are going to be a united team;  a partnership that supersedes everything else in your life. That doesn't mean that the other things aren't valuable and important but nothing is more important that your relationship with your partner.
Learn more about my course, Before You Tie the Knot, 12 Essential Conversations