Podcast: Play in new window | Download
Subscribe: Apple Podcasts | Android | RSS
Welcome to the 58th episode of The Couples Expert Podcast: Ollie the Wonderdog, He Brings Love to Us All
In this very special episode, Stuart's wife Debbie joins him to talk, reminisce, laugh, and rejoice in the wonderful love they have for dogs, and particularly for their adopted dog, Ollie. Ollie is a yellow Labrador Retriever whom Stuart and Debbie adopted from their nearby rescue service for which they serve as regular fosters. He has not only brought incredible joy into their lives, but has made a significant impact on their relationship with each other, and even on their relationships with other members in their community. Ollie is a fantastic dog, and as you join Stuart and Debbie in this episode, you are guaranteed to be moved, motivated and simply tickled.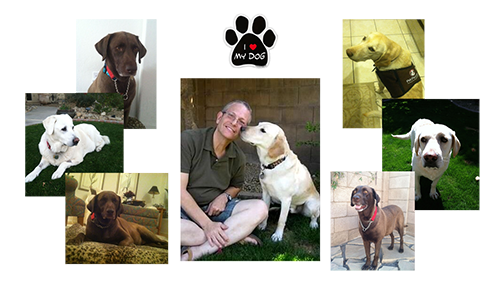 OLLIE THE WONDERDOG:
Breed: Yellow Lab
Age: 8
Sex: Male
Likes: Starbucks puppuccinos; ice water; playing with his friends
Dislikes: Loud noises; people arguing
Most favorite thing: McDonald's ice cream cones
Aspiration: To bring love and comfort to his family
Ollie had a little bit of a mischievous streak in him. I
pulled back up to the kennel and he literally jumped out
over my head and ran.
Just like kids, dogs can be a bit of a handful, but what they give back to us in unconditional love and complete acceptance makes up for any of their spirited antics a hundredfold. At first, it takes some adjustment, a few ounces of patience, a smidgen of discipline, and then from there, it's joy. But not just joy, dogs can bring a heightened level of commitment and self-awareness in the whole family.
Having Ollie makes us appreciate the time we spend
together because we can spend it with Ollie also, because
there's nothing like a dog."
There are many dogs out there that are waiting to love us and to be loved by us. In giving of our love, we in turn can be filled with an enormous sense of gratification that we have provided a home for an animal that might not otherwise have had one. It takes careful consideration before deciding to foster or adopt a dog, but if that decision is made, it just might be one of the best ones you ever make.
If you're interested in doing that, to contact the rescue and
talk about being a foster, it really is something that is of
great value and really has you feeling good about yourself.
"When the Man waked up he said, 'What is Wild Dog doing here? And the Woman said, 'His name is not Wild Dog anymore, but First Friend, because he will be our friend for always and always and always.'"
– Rudyard Kipling (author, The Jungle Book)
In this episode, you'll learn:
The types of things you might need to be prepared for when deciding to make the commitment to foster or adopt a dog;
How deep the reward can be when you actually do decide to commit to fostering or adopting a dog;
The amazing difference that a four-legged furry friend can make in your relationship;
About the wonderful quirky personalities that are unique to each individual dog;
And that a Chiweenie is actually a real thing!

Stuart with the most important person in his world,
his wife, Debbie

Subscribe to My YouTube Channel
Ask Me a Question
If you have a question, comment, thought, or concern feel free to comment below. We'd love to hear from you!