April 23rd is National Lovers Day, but it also happens to be Take a Chance Day! What better combination could you ask for to celebrate your love for one another by doing something new? (It also happens to be National Zucchini Bread Day and World Laboratory Day, but we'll leave both of those to the mad scientists to celebrate.)
With cupid now but a distant winter memory, and with April 23rd falling on a weekend this year, few of us have any excuse not to take this opportunity to drop our shackles and reconnect with our partner. An entire day dedicated to love without boundaries, to love with daring and pizzazz, to love that will spring from your memory in future quiet moments and make you blush, now that's worth taking a chance on!
"L" stands for "Let's Eat!"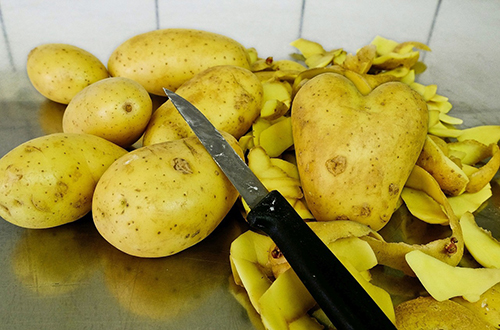 The world over, the art of cuisine has been designed to arouse our senses. The tantalizing smell of food can make us swoon, a beautifully presented dish can fill us with delight, and a simple flavor can make us shudder with pure unadulterated joy. The feeling of a soft butter cream or a crunchy pecan are simple pleasures that we remember forever. Food is not just for eating. When shared, food can be a sensual experience that leads to fiery passion.
For whatever bizarre reason, potato skins are the official food for Lover's Day. This may not be a dish that would immediately strike one as being particularly romantic, but take a chance and try out this French recipe sent to me by one of my podcast listeners from Québec, Canada…
Escargots en Oreillers
(Snails in Pillows)
You will need…
4 medium baking potatoes
olive oil
¼ cup garlic butter, cut into small pieces
1 cup sour cream
1 tsp dried parsley flakes
¼ tsp salt
a few twists freshly ground black pepper
1 small tin escargots
1 cup grated Edam or Gruyere cheese
1 cup grated mozzarella cheese
To prepare…
Bake potatoes at 375 for about 45 minutes or until tender, then let cool just until they can be handled safely
Cut potatoes length-wise and scoop out the flesh into a bowl, leaving just enough to keep the shape of the potato boat
Add the garlic butter, sour cream, parsley, salt and pepper to the scooped-out potato flesh and mash well
Lightly brush the skins of the potato boats with olive oil, then fill them evenly with the potato mixture
Drain, rinse and pat the escargots dry, then gently push 3 or 4 escargots into each potato boat
Sprinkle the tops with the grated cheese, combined, and return the boats to a 350 oven for about ½ hour or until the cheese begins to brown
Bon appétit!
"O" stands for "Off We Go!"
Whether you decide to go out on the town or just stay home, the fun and excitement of doing something new, even daring, can work wonders for bringing you closer together. Have you ever gone to a nude beach? How about renting a super-fancy car and going for a drive in the country? Go for a couples' massage. You don't have to go beyond your comfort level of risk to get those butterflies fluttering in your tummies.
Or, revisit an activity from the past to rekindle your youthful spirit. How about a three-legged race, just against the clock? When is the last time you played strip poker? Take a chance and play a few rounds of Truth, Dare, Double-dare… adult style. Whatever you choose, what matters is that you enjoy each other while you do it.
"V" stands for "Va-Va-Voom!"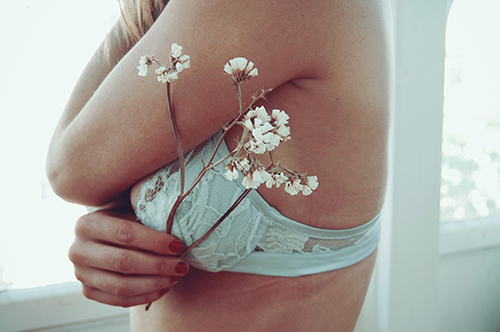 Amidst the day-to-day craziness of life, it's sometimes hard to remember to take a moment to appreciate your partner from all angles. The mind and spirit can be wonderfully stimulating, but the body should not be left out. Take this opportunity to have some quiet time to share what you find so amazing about each other. The power of touch can stimulate, but it can also heal. Just a warm hug, a small kiss, feels so good.
Of course, a moment of passionate wild abandon is pretty incredible too! Need a bit of stimulation to get you started? Take a chance and check out one of these sexy movie suggestions that might help get you in the mood…
9 ½ Weeks
(1986, USA, directed by Adrian Lyne, starring Kim Basinger and Mickey Rourke)
An erotic tale (with a terrific soundtrack) of two strangers whose relationship begins as a courtship but grows increasingly sexual.
Like Water for Chocolate
(1992, Mexico, directed by Alfonso Arau, starring Lumi Cavazos and Marco Leonardi)
Tita, as the youngest daughter of the family is doomed to remain unwed to take care of her mother; she gets her revenge through her exotic cooking.
An Affair of Love
(1999, France, directed by Philippe Blasband, starring Nathalie Baye and Sergi López)
According to Roger Ebert, "It is about the desiring itself, not about what they desire. That makes it more intriguing than if we knew their secret – and sexier."
"E" stands for "Especially For You"
Lover's Day should not be about material gifts, it should be about elevating the love that you have for one another. But, if the spirit moves you, try to send a personal message to your partner within your gift. Letting your special someone know that they are inside of you, that you pay attention to their likes, is far more meaningful than the actual gift.
Naturally, Lover's Day is all about roses, but did you know that each color of rose holds a special meaning? If you decide to take that route, don't take a chance, choose carefully!
Red – Love, love, love, beauty, passion, courage, respect, and more love.
White – Purity, innocence, silence, secrecy, humility.
Pink – Appreciation, thankfulness, true happiness, admiration.
Yellow – Joy, friendship, freedom, new beginnings.
Orange – Desire, enthusiasm, fascination.
And the thornless rose represents love at first sight.
"R" stands for "Rest and Relaxation"
Enjoying each other's company doesn't necessarily mean your time together has to be action packed or that you always have to take new chances. At the end of a beautiful day, just lay back with your partner to take a deep breath and be thankful that you have each other. Look back over the great day you shared together, no matter what you did or didn't do!
Relive it, revel in it, and before you close your eyes for the night, promise each other that you won't wait until the next Lover's Day to celebrate your love.
April's Workshop Was A Huge Success! Renew, Rebuild, Reconnect at May's Workshop!
MAY IS RIGHT AROUND THE CORNER!!!
Secure your spot in the workshop today!
Click here to register for the couples weekend
For more information, download the brochure.