It's pretty unbelievable that March will be here in just a week. New Years feels like it was just last week, but here we are staring spring in the face. While many people make resolutions at the turn of the year, Spring is the time that we can really sense renewal. As March creeps in next week, long slumbering bulbs will announce their green presence, the weather begins to warm, and what has been brown and bleak for months will slowly begin to brighten and change. There is a hope in the air of new things to come.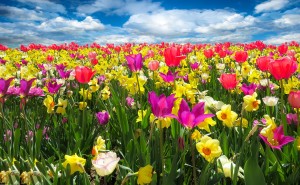 The same hope and renewal can be true for our relationships. If you've been experiencing a dark and disconnected time in your marriage, the opportunity for renewal and rejuvenation is always possible. Most relationships don't begin in a dismal and unhappy place, so even if that is how your marriage feels now, underneath that outer layer of "mess" is the hope of new growth and love that your relationship was founded on.
Like any good gardener knows, successful spring growth doesn't happen with wishing and hoping. There is intentional work and cultivating that takes place in order for good things to grow. Our relationships also need the same tending and loving care in order to awaken from a winter's sleep or rough patch. You can wish and dream about a blossoming marriage, but unless you put hands in the dirt and get to work, all you'll have is a fantasy that may never come to fruition. So, what are some steps you can take to begin awakening your marriage?
1. Set Priorities– If your job, hobby, or smart phone have rooted their way into your number one priority slot, then it's time for a reorganization of priorities. Your spouse has surely noticed that he/she isn't number one, and you need to be very intentional in making time for the most important relationship in your life.
2. Spend Time– Any good gardener knows that cultivating beautiful flowers and plants takes time and effort. All good relationships involve meaningful time spent together. While watching tv on the same couch each night seems like quality time spent, real connection comes from time spent communicating. There are always new things we can learn about our spouse, and we can only do this through setting aside time to spend with them. Make a weekly date night a priority, take up a hobby you both enjoy, or get away for a www.thecouplesexperts.com/hold-me-tight where there are no distractions or interruptions.
3. Soak it Up– Sometimes, despite all of the issues we think our relationship has, we may need to simply sit and consider all of the good things about our partner or relationship. Negative things always tend to stand out, while finding joy and contentment takes more effort on our part. Start by sitting down, pen and paper in hand, and simply think of 10 things you love about your spouse and marriage. Soaking in the positive aspects of a relationship will go a long way to making us appreciate what we already have, instead of focusing on what we don't.
So as the hope of spring begins to blossom outside, allow it to also take root in your home and marriage. Cultivate a loving environment by putting your priorities in order, spending time with the person you love most, and making an effort to focus on all the good your spouse has brought into your life. Much like a garden, our marriages need work and maintenance, and when this work is put into it, the result will be a beautiful garden of love and joy.
Spring Provides Opportunity For Fresh Start 
Don't Miss Out! March's Workshop Sold Out!!!
www.thecouplesexperts.com/hold-me-tight
TIME IS RUNNING OUT!!!
Secure your spot in the workshop today!
For more information,