Podcast: Play in new window | Download
Subscribe: Apple Podcasts | Android | RSS
Welcome to the 53rd episode of The Couples Expert Podcast, 'What Is A Dink Anyway, and Do I Want to Be One?
The term "dink" was coined during the peek of the "yuppie" culture of the 1980s. As most know, it's actually an acronym that stands for 'Double Income, No Kids'. But there's a lot more to being a dink than simply earning a living and being in a child-free relationship. And it's not always the free-wheeling nothing-but-fun world that those blessed with children may sometimes envy.
As with all people, dinks have stressors and triggers that may impact their ability to enjoy a close, connected relationship. Some of these stressors and triggers, however, are particular to those who are without children, be it by choice or by chance. Join Stuart and Robyn as they talk about what some of the issues around being a dink are, from societal prejudice, to parental pressure, to medical convention, and why people just aren't talking about these things.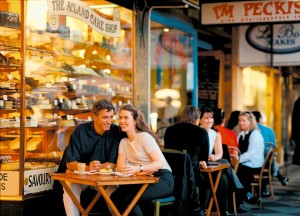 I don't see a lot of other people or hear a lot of other people working specifically with this community or talking about it very publicly.
In this episode, you'll learn:
About the prejudices and pressures that are faced by couples who have chosen to be child-free;
How important communication is to relieving stressors and building close, sustainable relationships;
That being child-free doesn't automatically mean more time, better sex, or a relaxed relationship with your partner;
That the decision to bear children can and should rest solely with the woman, no matter what age;
And that there are experts worldwide who have valuable resources for not only dinks, but anyone who wants to improve their relationship with their partner.
Robyn D'Angelo, LMFT
Marriage and Family Therapist
23151 Verdugo, Suite 201
Laguna Hills, CA, 92653, U.S.A.
www.counselinglagunahills.com
714-390-1652
And with this silence in mind, Robyn has co-ordinated the Creating EPIC Relationships summit.
Just hearing all of these experts, and not just the clinical and the research behind it, but even the personal experiences, just was absolutely remarkable…
Whether you're a dink or not, this three-week series of interviews with experts from around the world, is an amazing opportunity to learn more about a plethora of topics that can help you improve your relationship with your partner, and your life!
Click on the link below to sign up for the Creating EPIC Relationships summit.
It's absolutely FREE and comes with a FREE gift from every speaker!
Register Here
Read the Transcript
You can download a complete, word-for-word transcript of this episode here.
Subscribe to My YouTube Channel
Ask Me a Question
If you have a question, comment, thought, or concern feel free to comment below. We'd love to hear from you!