Podcast: Play in new window | Download
Subscribe: Apple Podcasts | RSS
EPISODE 21- Foreplay Is Just The Beginning An Interview With Monica Leiser
In this Podcast you will discover:
Relationships and intimacy is about creating connections. How to create a framework for couples creating intimate connections by making every day count as a way to connect emotionally and physically. She discusses how to apply this concept to our relationships
Some of the changes that occur for relationships should be intentional and how to really engage couples on how to have a very exciting passionate relationship.
Open up your definition of foreplay change the understanding of it due to the narrow definition
Discussed the writing of her book 14 days of Foreplay with her co author
Not limiting your playfulness and your natural strengths of your relationship .
Ways to have intentional dialogues and intimacy that will make your relationship more exciting
Avoid the struggle of lacking deeper connection
Having a more open definition of what a sexual relationship should look like with experimentation, flexible and self humility.
Introduce to anyone the ability to be physically and emotionally intimate in two minute intervals
A step by step structured approach to have your intimate life be an opportunity to involve play into your relationship
Redefine your intimacy to be about connection and being vulverable in playfulness
Identify the gestures of intention and things you can do and invest in yourselves as a couple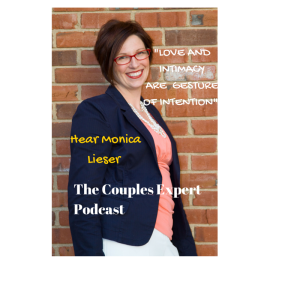 Monica Lieser
Sandhill Counseling
801 South Woodlawn Avenue, Suite 29
O'Fallon, MO 63366   Phone: 636-379-1779
Subscribe to My YouTube Channel
Ask Me a Question
If you have a question, comment, thought, or concern feel free to comment below. We'd love to hear from you!