Empty Nest Relationship, Empty Life? Not If You Follow These Tips
Carefree, Arizona. A beautiful and charming place to raise a family. Even the name—Carefree—evokes feelings of contentment and pleasure. But even families here can experience some bumps in the road.
So often in my office, I hear from couples who have raised children and, when the children are about to leave home, a lot of fear and anguish comes up.
The typical concern I hear is that now it's just going to be the two of you, that you will be alone without the distractions that children bring. That can cause some couples to look at each other with the feeling that they're living with a stranger—there's nothing scarier than that.
The symptoms I usually hear about are parents suffering with sadness and excessive worry about the welfare of their children. This can cause stress for even the closest relationship.
Parents who have a rocky or unstable relationship, though, are the most at risk and most affected by the sadness and anxiety.
A couple must learn how to improve their relationship to make you and your partner excited about your children leaving home. You need to remember that you will have your best friend there and that the two of you will be able to have experiences that bring you closer together.

Don't Worry About the Kids
You've spent a large portion of your life raising children, making them a priority, and this can only have made them feel good about themselves, knowing how important they are to you.
So, how can you ease your mind about your children's leaving home?
With today's technology, you have more opportunities to stay connected with people than ever. There are many options: you can text, there is FaceTime, Skype, and there's Viber. Since most young people love technology, you can have an ongoing dialogue with your children.
I had a couple in my office the other day who said one of the best things that happened to them is that they've been able to play games with their kids through Facebook. They are allowing themselves to engage with their children in a different way than they ever have, which is very cool.
Sometimes we've got lots of regrets. We recognize many situations where we absolutely blew it with the kids. Instead, I think we need to be kind to ourselves; give ourselves permission to not have been perfect. If they feel loved and have a secure attachment with you, you have been a successful parent—pat yourselves on the back!
You need to remember that you need to begin to define the kids' leaving home as a new beginning for you and the children—a new life for all of you.
Things you can do to Strengthen Your Partnership
Think of this change as a real opportunity for you to start a new life with your partner with the ability to do many of the things that you might have been unable to do while you were raising children.
If you would have always liked to try sky diving, here's your chance. Let's say you're someone who loves to travel, but it's been difficult because of school schedules. You'll have the opportunity to travel now that the children are gone.
Use your friends, family, and colleagues to give you a social outlet. Have game nights and potluck dinners. Celebrate holidays such as Memorial Day and the Fourth of July together with picnics.
Do some really nice things for yourself and do them on a regular basis. Get massages, do arts and crafts, take a yoga or Pilates class, work out—there are so many things that you can do.
At the community college level, you can have experiences that bring you out of your shell and allow you to really expand your horizons. Maintain your connection by sharing and comparing interests.
You should celebrate—plan a vacation for you and your partner. Birthdays and anniversaries are good opportunities for you to celebrate just being the two of you. It will strengthen your bond and reinforce the fact that you are each other's best friend.
One of the best things that I suggest is doing some volunteer work. My wife and I do that with a local dog-foster organization for Labrador Retrievers. (Below is a picture of Joey, our foster Lab.) It has been a wonderful opportunity for my wife and me to share something meaningful to us. I believe that this experience is going to allow us to stay strong as couple once the kids are out of the house.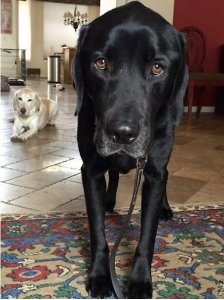 The bottom line is that most long-term couples end up having some difficulties with their children moving out, and you need to make sure that your partner recognizes how important they still are to you. Make time to rebuild and maintain your bond.
Having a relationship in the later years in your life in which you are close with your partner feels wonderful. You have spent years of your life together, raising your children, having fun, because you're with your best friend—each other.
Click here to find out more on our Carefree Counseling Services