TWO DAYS AND SEVEN CONVERSATIONS
This couples relationship weekend is designed for committed couples who want to strengthen and deepen their emotional connection. Learn to meet each other's needs and discover how to be more empathetic, trusting, and open with each other. Renewed emotional connections allow for a greater ability to handle the day-to-day stressors and difficulties of life.
During this Two Day Relationship Weekend couples will experience and learn:
Affirm strengths in your relationship
Address negative interaction patterns
Couples relationship weekend has you feeling like a sunset on the beach
Understand more clearly each other's emotions
Recognize underlying reasons for your conflicts
Learn how to repair and forgive
Enhance your emotional and physical closeness
Improve your communication and trust in one another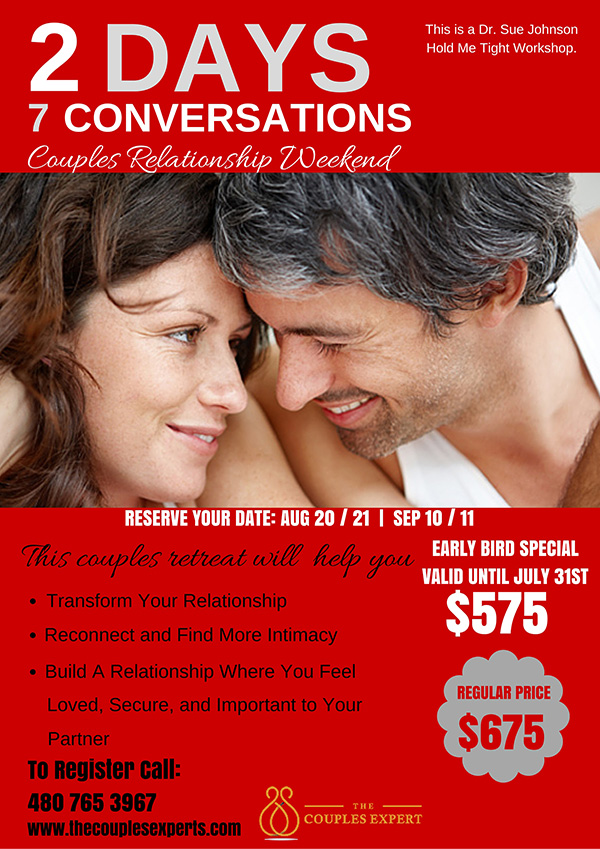 WHAT COUPLES WHO'VE GONE HAVE TO SAY
Watch the Video Below and see for yourself.
"Through the process
we've renewed
our closeness.."
The Weekend Includes:
Engaging presentations, video demonstrations of other real-life couples, and the opportunity for many private exercises and conversations with your partner.


Stuart will be available to give you personal support and guidance as needed.
Experienced therapist helpers, trained in the EFT model, are available to you to offer additional support.


Sessions will include lectures, group discussions,and multimedia presentations.


Coffee, tea and light snacks will be provided. Lunch will be provided. Please feel free to bring your own snacks and drinks as well.
We are located near the Kierland Commons area in Scottsdale, Arizona.
You will learn how to understand and improve your relationship through presentations by the workshop leaders, private exercises and conversations with your partner, and by watching video demonstrations of other couples. Although we encourage questions and comments, you do not need to speak in the group if you do not wish to. All of the dialogues with your partner will be done in private, as we always emphasize privacy and comfort. We welcome people of all backgrounds, ages, faiths and sexual orientations. We encourage you to seek therapy if you are in high relational distress.
What Leading Relationship Experts and Authors say about Hold Me Tight:
"At last, a road map through Emotionally Focused Couple Therapy with its creator. Dr. Johnson's superb science, humor, and clinical wisdom are finally accessible to all of us. I couldn't pick a smarter, warmer and more real guide for this journey."
– John Gottman, PhD, bestselling author of The Seven Principles for Making Marriage Work and co-author of And Baby Makes Three.
"Dr. Sue Johnson is the most original contributor to couples therapy to come along in the last thirty years. This book will touch your heart, stimulate your mind and give you practical strategies for improving your relationship."
–William J. Doherty, PhD, author of Take Back Your Marriage.
"Wonderful…. Hold Me Tight blends the best in research findings with practical suggestions from a caring and compassionate clinician. Hold Me Tight will be of great benefit to couples trying to find their way to better communication and deeper, more fulfilling ways of being with each other. Bravo!"
–Daniel J. Siegel, MD, author of Parenting from the Inside Out.
"A much-needed message to all couples and therapists, and I recommend it to all."
–Harville Hendrix, PhD, author of Getting the Love You Want.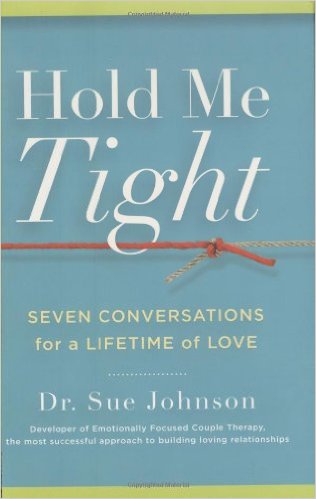 All couples who attend the retreat
will receive a copy of the Best Selling book,
Hold Me Tight written by Susan Johnson.